Heaven on Earth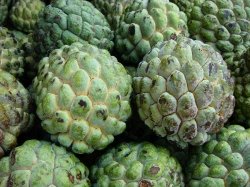 At least as far as my stomach goes. Before you ask, yes, I'm back in Brazil. How many times have I written about Brazilian food, including all those pages on my website? I lost count. But anyway, I landed in Rio this morning and had to go food shopping. After three weeks in the U.S., as you can imagine, my tastebuds were in serious withdrawal. So, I dragged myself to the market (I never sleep on those all-night flights...) to pick up a couple of papayas, one fruta-do-conde, and one mango. Then I went to the bakery for a couple of freshly-baked baby baguettes; then on to the supermarket for some goat cheese and some all-natural chicken. I walked right past the coconut water stand, but didn't stop. You have to understand, it's not only the availability of all this stuff across the street. It's what this food tastes like. To begin with, it tastes like nothing we're accustomed to: it actually tastes like it should. I apologize, I really can't explain myself better than this right now; I've been running on empty for a couple of hours and I'm falling asleep as I type.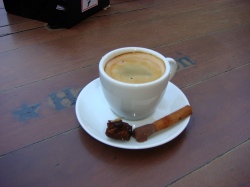 I leave you with one simple question: why can't we have a café in Miami like the one half a block from me? Like the countless cafés in Rio, serving espressos in tiny china cups with dainty, scrumptious miniature cookies on the saucer? Why must there be a Starbucks on every block, selling the same lattes in paper cups, and boring doghnuts, muffins, cake slices, and do-good water? Argh! I need to go to bed.
I took the picture of
frutas-do-conde
at said market across the street from where I live. I had this cafezinho at the Parque das Ruínas in the Santa Teresa district of Rio. The little cinnamon stick is the stirrer! Now, what do you say?
I almost forgot: I mailed in my absentee ballot. Nothing secret about it: GO, OBAMA, GO!!!
Updated October 31: And all my friends have voted early for Obama, too!!! Happy Halloween! Remember: there's nothing scarier in the world than another Republican administration!!