Lazy Days of...Winter?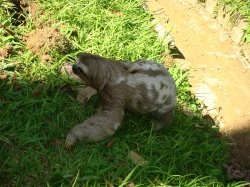 Winter in Rio has been anything but. Blue skies and comfortable temperatures for weeks on end. Makes you wish for a couple of drizzly days, at least I think plants around here would welcome the change. But this unusual weather makes my daily walks in the Botanical Garden much more pleasant: no mud on my shoes and very little sweat on my face. This morning I wanted to photograph another old
jaqueira
I had come across a few days ago and a very strange-looking "paper tree" from Australia. I think I've said something in the past about the arboretum being home to a variety of animals as well as plants? I've seen monkeys eating jackfruit almost every single day and birdwatchers galore tiptoeing around with binoculars around their necks (I hear different songs and calls, but have never actually seen the little creatures they're looking at). Anyway, along the way from one tree to the next, I saw this little fellow coming very slowly across the grass, as it should be for a sloth. So I had plenty of time to stand there snapping away (or clicking or whatever you do with a digital camera) while thinking that this is an amazing place, indeed! A large metropolitan area where people can still be in such close proximity with the natural world.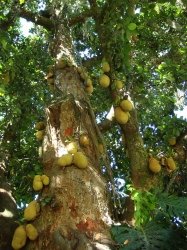 I think this is the most gorgeous
jaqueira
I've seen in all these years of visiting down here. It stands next to the administration building near the Bromeliarium, in case you want to pay it a visit someday.
By the way, about ten minutes later a guard came and took the sloth back to the forest. For as long as I walk the trails up there now, I'll be looking for him (or her)!