Esgrefendo Popagen
Say what? Even if you can read Portuguese you'll not have understood my title. The reason being that it's Portuguese spoken with a very heavy accent. Not anybody's accent, mind you, but aunt Lucila's. I wish I'd met this lovely Brazilian of German descent, but she's been gone for a few years now. Aunt Lucila has been immortalized by her journalist nephew in a book that had me in stitches in Porto Alegre. So much so that my friend managed to call him and get me a copy. Mind you, no one here is making fun of the way she spoke; we're just madly in love with her hilarious dialogs with him. In his small volume, Mr. Decker also briefly tells the story of German immigration (1824) in Rio Grande do Sul and compiles a vocabulary of the Hunsrück dialect, which has died out in Europe, but still survives in hamlets in the mountains of Southern Brazil. Side by side with what he calls "tialês" or Portuguese as spoken by his favorite auntie.
For me, traveling around this area of Italian and German immigrants was also an emotional journey back to the days when I studied at the Deutsche Schule (which at that point had switched to Portuguese, just as aunt Lucila had to, all of a sudden, because of WW II), bought schwarzes Brot, and ate polenta with radicci, drank red wine, and fell asleep in "nonna's bed." What a childhood that was...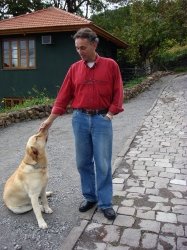 This photograph was taken at our inn in the
Valley of Vineyards
(part of the region colonized by Italians starting in 1875) and features a tender moment between the owner, Mr. Sant'Anna, and his dog, Galileu.
Before I forget, I hope you've been enjoying all the
popagens
(
bobagens
, silly things) that I've been
esgrefendo
(
escrevendo
, writing) these past months. Brazil has a lot to offer and I'll be down here a little while longer...