Color Coding My New Year's Eve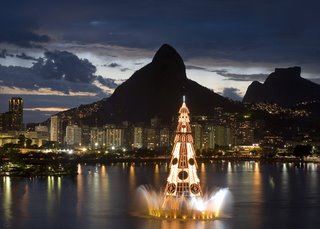 I live in a city that takes New Year's Eve extremely seriously! By now, store windows are chockful with everything from evening dresses to shorts to shoes and accessories in white, silver, and gold. Florists are stocking up on white, yellow, and red flowers for
Iemanj&aacute
. Street vendors are popping up here and there offering all manners of souvenir T-shirts (in white, silver, and gold, again) and noisemakers. My wine seller greeted me with a glass of champagne as I walked by his shop this afternoon. There are tons of superstitions or
simpatias
, as they're called in Brazil. Here is a short list of things to do when the spectacular fireworks show on Copacabana Beach rings in the New Year (you can pick and choose, of course!): eat a pomegranate (for money); eat a spoonful of lentils, ditto; eat seven grapes (for prosperity); jump seven waves in a row (for good luck); throw white flowers into the sea (choose your wish or prayer). Also, for the ladies: wear brand new panties in white, yellow, or red. Are you wondering why? O Globo, Rio's major daily paper, recently published a list of colors and their meanings. Here is a summary (you still have time to go shopping tomorrow morning!):
Blue - Power, action, force.
Pink - Love, understanding, conciliation, attraction.
Gold - Wisdom and prosperity.
Yellow - Same as gold; it also stimulates creativity.
White - Harmony, peace, stability.
Red - Passionate love, desire.
Green - Vitality, positive energy. Green also brings health.
They didn't mention silver, by the way, but my friends tell me it's supposed to mean the same as gold, at least as far as prosperity goes.
This year, I'm avoiding the beach (and a couple of million people) and spending a much quieter New Year's Eve with a friend watching the fireworks by the splendid floating Christmas tree near where we live. Ah, before I forget: I'll be in white, gold, and blue (2008, here I come!). Happy New Year, everybody!