Imagina!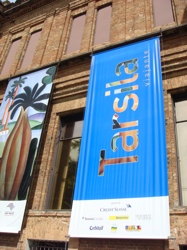 This title refers to the way people in São Paulo respond to your "thank you!" As you may well have guessed, it's the Portuguese equivalent of "imagine!" It's accompanied by smiles and very strong body language that tells you that "there's absolutely no need to thank me, I'm here to be helpful to you, and I enjoy doing it." This pretty much defines the megalopolis in my opinion. Spending a few days wandering around a few neighborhoods doesn't make me an expert, but I got a general feeling that the city is considerably better managed than Rio and that people are better educated and have a more professional attitude, from the Japanese ladies at the Saturday market to museum guards and uniformed (and polite) taxi drivers. Their cars, by the way, don't seem to be falling apart, and neither do police vehicles. This makes you feel like you can ALMOST trust the officers driving them...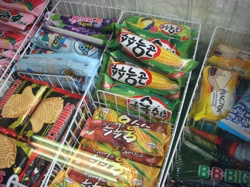 São Paulo also managed to eliminate outdoors and other obnoxious visual pollution and this made such a huge difference. I sampled Middle-Eastern food at Arabia in Jardins and had a grilled salmon at Sushi Lika in Liberdade, the Japanese neighborhood. Both were excellent and I'm told there are countless such great places to eat in this tropical New York City. I also found some heavenly shops in Vila Madalena and Liberdade...Next time, it's on to the Italian and Jewish neighborhoods and on and on...
If you look carefully, you will, for sure, realize that you are still in Brazil, but it's one that we wish was more the norm than the exception.
The first photo was taken outside the Pinacoteca, which has a magnificent Tarsila do Amaral show on right now. Question for you: Why is all this great art practically unknown north of the Equator?
The second is a picture I took of Melona popsicles from Korea, which are all the rage in the Japanese neighborhood. I chose melon, which seemed (and tasted) delish, but had I been a bit more adventurous, corn, rice, and even fish were among the available flavors that afternoon.