Election Eve and Chicken Soup for the Soul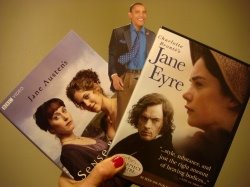 Well, here we are: it's November 3rd, a rainy night in Rio. Tomorrow evening (or rather, late at night, since we're three hours ahead down here), I should either be jumping for joy or stunned, heartbroken, and scared as hell. A few months ago, I registered as a Democrat and joined an organization called Democrats Abroad to be able to vote for Obama in the primaries. I bought my t-shirt and sent in my small contribution to his campaign. I mailed in my absentee ballot three weeks ago and e-mailed all my friends more than once, reminding them to vote early (they did!). I wish (and then maybe I don't, when I think of November 2000 and 2004...) I could be in Florida to scream out the window: At last! It's over! And believe again that everything is possible, that not everything is lost, after eight years of this disastrous administration.
I don't think I've ever been this anxious before an election: there's too much at stake, I guess. If only I could go to sleep tonight...To help me relax, I've enlisted the help of two Janes: Austen and Eyre, who are the equivalent of Brazilian
canja de galinha
for my heart and soul. I'm going to dream of love and immerse myself in romance and mischief and gallantry; cry a little, laugh a little, and maybe snooze through the night.
Photo taken a few minutes ago in my living-room: One of my freshly-painted red nails (for what I hope will be an Obama victory party tomorrow night!), my wonderful BBC DVDs, and my Obama paper doll (purchased at The Wolfsonian Museum in Miami Beach).
Fingers crossed now!!