The Best Perfumes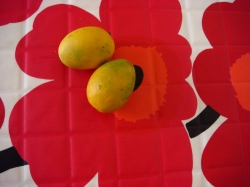 Have you ever heard the expression "the best perfumes come in the smallest bottles?" I've come to the conclusion that it can be justly applied to mangoes, after eating a few
mangas carlotinhas
this week. They're the smallest mangoes I've ever seen and coming into season now. They're a yellow-green color (deep orange inside) and not much bigger than a large egg; very fibrous, strong-flavored and the sweetest of the bunch (I mean, of all varieties I've ever tasted). I took a picture of a couple on my kitchen table; if anyone has ever tried these anywhere else in the world, please let me know! I've just consumed these two and need to rush back to the market for more.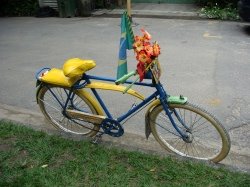 Spring downpours are here and my daily walks have suffered, so I've been catching up on my reading. I bought a small book called "
Brasil e Estados Unidos: o que fez a diferença
," written by a journalist called Ricardo Lessa. Mr. Lessa digs up the economic, social, and political roots of Brazil's chronic ills and compares that with U.S. history. I don't need to tell you which country comes out as the winner, but the message is that the South American slumbering giant can (or rather should) learn from past mistakes and awake to fulfill its spectacular potential.
I photographed this patriotic yellow, blue, and green bike at the Botanical Garden in Rio about a week ago.
PS - I'm planning a trip to the south of Brazil in early December to visit the ruins of the Jesuit Mission of Saint Michael the Archangel (now a UNESCO World Heritage Site), where I used to play as a kid. I'm also going to stop by my old school; I owe it the debt of an extraordinary education and wish to see it again (but judging by their website there's little I'll recognize!). More later...I need to go floss my teeth now!!