Sad News Here...Great News There!!
Remember the lady who owns (rather, owned) the newstand across the street? She has decided that enough is enough and closed her business a few days ago. I stopped by to say goodbye and chat a bit. She's tired, she said, and it's not a healthy way of life: she's been there from dawn to dusk, seven days a week, for years on end. She doesn't eat well, doesn't exercise, and tends to drink Coke and smoke, because of job stress. I never thought of her line of work as stressful, but I could see that she didn't have much of a life. She says she'll open another business at some point, but she doesn't want to work 12 hours a day, everyday, including holidays. We exchanged mobile numbers and e-mail addresses and hugged. I told her I'd miss her enormously. She was one of the first people I met here and certainly one of the nicest.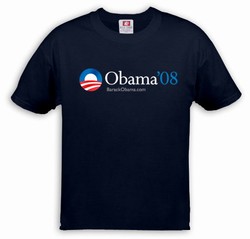 I took her photo as a souvenir. I'm flying back to the U.S. tomorrow and I feel a bit melancholy. Perhaps opening up my
Store.Barack Obama
package (one t-shirt size small) will cheer me up? Considering the sad state of politics in Brazil and the alternatives at home, Mr. Obama's candidacy is the best thing that has happened to me (on the public sphere!) in the past few months...Hey, everyone! Let's go to the polls in droves. He could be the best thing that has happened to our country in a very, very long time!!!!